Art and Faith in the Renaissance : The complex of Florence Cathedral
Masterpieces of Renaissance in Florence: tour of the Duomo, Brunelleschi's Dome, the Baptistery and the Cathedral Museum.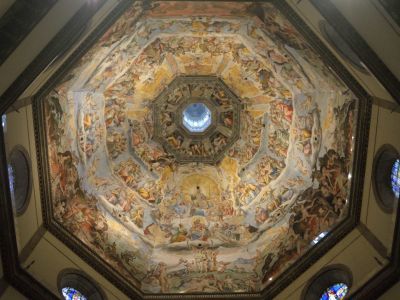 This guided complex of Florence Cathedral guided tour will take to the religious heart of Florence where the most important religious buildings can be visited: the Cathedral of Santa Maria del Fiore with Brunelleschi's Dome, masterpiece of Renaissance architecture; Giotto's belltower; the Baptistery, a beautiful example of Romanesque Florentine architecture and known for its splendid Golden Gates of Paradise.
Museum of the Opera del Duomo in Florence
The tour continues with the visit of the Museum of the Opera del Duomo, which houses the richest collection of religious art in the world after the Vatican Museum.
There you admire the ancient façade of the Duomo, the works of important Renaissance artists such as Donatello, Luca della Robbia, Ghiberti as well as Michelangelo's Pietà, one of its last sculptures which the great Master made for himself with his self portrait.
Related Articles:
» the 10 most beautiful churches to see in Florence
» Where to see Michelangelo's works in Florence
» Uffizi Gallery: Top 10 works of art to see
---
Duration: approx 3 hours
Price: € 180 (1 to 10 people - entrance tickets not included)
Book now